To help our visitors and tourists from outside of Berlin we took a map screen-shot  of the Synagogue's area which shows the many different hotels located nearby – as shown on Google maps. The location of Crowne Plaza Hotel which offers kosher breakfast (please check with the hotel before your arrival) is marked, as well as the nearby kosher cafe restaurant "Bleibergs".
Click the image to enlarge in a new window.
Kosher Accommodation / Hotel in Berlin:
Currently there is one Hotel in Berlin near the Synagogue which offers kosher breakfasts upon prior reservation. The kosher breakfasts are under the supervision of Rabbi Ehrenberg.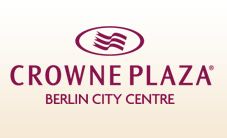 Crowne Plaza Berlin
Kosher Accommodation (Breakfast only)
Nürnberger Str. 65, 10787 Berlin
Room Booking: 0800 181 36 56
Reception: 030 – 21 00 70 / Fax: 030 – 21 32 009
Kosher Room Info
Crowne Plaza Berlin Website